MSNSW Coaching Update:  May 2021
Congratulations Greg Gourley (Tuggeranong) on his NSW And National Coach of the Year Award.
Greg is part of the NSW Coaching Team and created the excellent Return to Swimming Program after COVID last year.
Updated Coach Calendar
June 27
Kiama – Oak Flats Workshop (swimmer focus)
August 14-15
Sydney- Coach Workshop. Details out soon. Save the Date!


(coach focus)

August 21-22

 

Forster Country Weekend .

Workshop Saturday afternoon, Swim Meet Sunday morning- Lawrence Powderly (Country VP) is organising details.

Similar weekend to Ulladulla and Bathurst

(Swimmer focus)

October Long Weekend
Thredbo NSW Swimming Camp.

(see attached flyer and doc for info)

(Swimmer focus)
*** If your club would like a workshop run by MSNSW Coaching Team, please contact Jillian admin@mastersswimmingnsw.org.au who will pass on your details to Coaching Team.
Coach wanted for Pirates (Sunday morning /Tuesday night). Contact Jane Noake jnoake@ozemail.com.au if you can help out here.
MSA Online Club Coach Course 
Masters Swimming Australia has successfully transitioned the full Club Coach Accreditation program to a new learning platform powered by Dita Solutions.
This new learning platform allows trainees to access their training TO DO list at any time, complete their learning modules at their own pace and upload all required documentation to their learning dashboard.
The new course will launch on 1 June 2021 and all new registrations will be directed to the new platform (on MSA website).
This is replacing the Club Coach Course with face-to-face workshop. It is an excellent course and accessible to all in the online format. So spread the word so we can get more qualified coaches.
Coaching Corner:  Stroke Rate
Many swimmers may have found their stroke rate has dropped due to inconsistent swimming, lack of fitness and age. It is easy for stroke rate to slow without the swimmer being aware of this.
In training sessions recently, we measured our swimmers' stroke rates and were quite shocked to see the results. Most swimmers' stroke rates had dropped since pre-COVID. We then swam some sets focusing on increasing stroke rates using Tempo Trainers (Mode 3). For those without a Tempo Trainer, they focused on increasing stroke rate and their rate was measured during set using stopwatch. Even a slight increase in stroke rate can make a difference to efficiency and time. As fitness improves, swimmers should find it easier to stroke at a higher rate.
It was interesting to note in the session that, even after short intervention, many swimmers' strokes looked sharper and more efficient after increasing stroke rate.
Coach Tips:
to find stroke rate using stopwatch: Stroke Rate Mode "00": observe a swimmer – press start as hand enters the water count 1, on 4thstroke count 4 and press stop. The number is the stroke rate.
Ramp test: Used to find optimal stroke rate.  Swim a set of 50s increasing stroke rate each 50, starting at a rate below usual rate. What is the point where fastest speed is achieved without comprising stroke? This is optimal stroke rate.
Some facts about Stroke Rate:
Average Stroke Rate is around 60 -65.
Stroke rate can drop off with age and fitness.
Stroke Rate is very individual and depends on swimmer's body: height and arm span.
Some interesting elite stroke rates: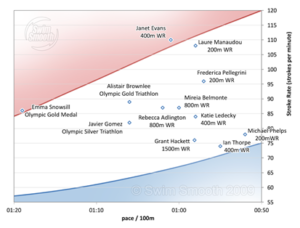 Happy Swimming!
Anne Smyth    (MSNSW Branch Coaching Director)
Regards,
Anne Smyth, MSNSW Branch Coaching Director
Stroke Workshops
Masters Coaches are available to visit your club and offer their expertise in stroke correction. To avail yourselves of this opportunity, contact the branch office.
Masters Coach membership
If you are Masters Coach but not a member, you are eligible to become part of our Masters Swimming Community for only $10 under the banner of Coach, Technical official or Volunteer membership. Go to http://mastersswimming.org.au/about/membership/ and click on the  "Non-Swimming Members" tab for more information.
Relay Meet – a great way to encourage new swimmers to compete
It is often difficult to engage older swimmers in competing. Over the past few years The relay meet is an excellent opportunity to introduce first time swimmers to competition. It is a lot of fun, there is no pressure and it is all about team spirit and camaraderie. A members story:
At this year's relay meet, Donna swam for her club. She is in her 50's, joined Masters this year and has never competed previously. She loved it and I think this will spur her on to enter more. Her elderly mother, who came to watch, was so impressed that she too is going to join a Masters club in Sydney and has just bought her first pair of goggles!  So keep it in mind for next year to use the relay meet as an excellent starting point to competition – it embraces what Masters is about: fun, friendship and fitness.
Coaches are required to update every four years
To do so you need to complete the Club Coach Updating form and the Coaching Code of Behaviour form and submit with your current CPR certificate to: coachdirector@mastersswimmingnsw.org.au
Download these forms at http://mastersswimming.org.au/Coaching/Coaching-Accreditation-Forms
Coaches are also encouraged to undertake courses offered by NSW Office of Sport such as Mentoring< other coaches, or to consider becoming a Presenter and Assessor and assist in the conduct of future Club Coach courses.